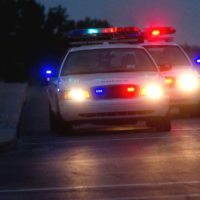 In Fairplay Colorado, 33-year-old Jeremiah James Taylor stop a police car from the police station Monday night.  Around 3:30 A.M. a report about a domestic violence call went out over the radio about a guy who apparently threatened to shoot someone.  Taylor responded to the call and he was the first on the scene.  When he arrived, people in the home reported that he was obviously intoxicated and asked them, "Where's the old man that's going to shoot someone?"
When the real police arrived, he sped off.  After two hours and a high-speed chase that hit 110 miles an hour he crashed the car and ran into the woods.  When caught he pulled out a knife.  Police tased him and fired a warning shot that did not hit him.
He is facing charges for theft, impersonating an officer, resisting arrest, and a half-a-dozen other crimes.