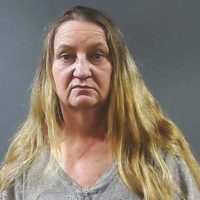 According to the Indiana State Police, 56-year-old Donald Ricketts was out driving drunk on Monday night, when he crossed the center line and struck a tractor-trailer headed in the opposite direction.  Thankfully, the other driver wasn't hurt.
After the crash, Donald called his wife, and asked her to pick him up.
So, 55-year-old Cheral Ricketts hopped into another car and headed his way.  But when she got to the scene, she crashed into Donald's car, which was still in the middle of the road.
And . . . get this . . . Cheral was also drunk. Both of their cars were totaled.  Donald was a little banged up, but Cheral is fine.  They both failed field sobriety tests after the cops arrived.  Donald was later found to have a blood alcohol content level of .28, and Cheral was at .22.  So about three times the legal limit for both.