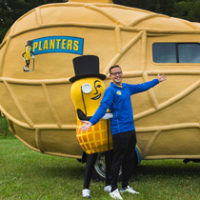 PERU – The Planters NUT-Mobile, a 26-foot long peanut on wheels, will be making stops across North Central Illinois and the first place it will visit will be Studstill Media. Tyler Towne, a LaSalle-Peru High School Graduate, has been driving the vehicle for the last six months across the USA spreading joy and brand awareness of all the offerings the Kraft-Heinz company offers. The NUT-Mobile and Mr. Peanut will be a part of the morning shows Monday on all the Studstill Media stations.
"We drive across the country spreading miles of smiles to different communities, bringing joy and peanuts everywhere we go," Towne said Tuesday.
They are planning to be making stops throughout the area from January 15th – 25th, including at the Peru HyVee on Thursday the 21st and Friday the 22nd and the Peru YMCA on Saturday the 23rd.