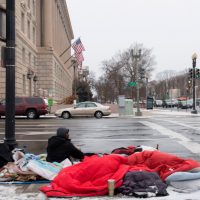 In case your faith in humanity needed to be restored today.
So there's this couple who is helping the homeless this winter because they know the struggles of being homeless themselves. They met two years ago while living on the streets.
"We don't do this for [credit], we do this because we feel it's the right thing to do," said Ray Perkowski.
"Becoming homeless is like falling down a well into a building where it's all dark, there's lots of doors, and keys are all on the floor to open the doors and you have no idea what you're doing," explained Glander.