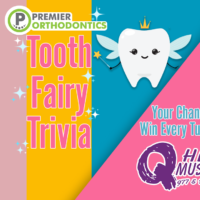 To participate, be the first caller when you hear the sounder every Tuesday at 3:30pm. To win, guess how many houses the Tooth Fairy visited the night before. between 1 and 10. If you guess correctly, you'll be the winner of $5. If you guess right, you'll win $5 from the Tooth Fairy. If you're wrong, the prize rolls over to the next week!
Trust your smile to Dr. Tushar Shah and Dr. Curtis Imel at Premier Orthodontics, voted best orthodontist in the Best of North Central Illinois 2023!
Contest Begins: 05/09/2023
Contest Runs: Tuesday
Contest Ends: 08/08/2023
Contest Rules: No purchase necessary. Standard contest rules apply. Sponsored by Premier Orthodontics. Winner is based on first caller and guessing the correct number from 10-10. Approximately one winner a week. Prize amount varies weekly.