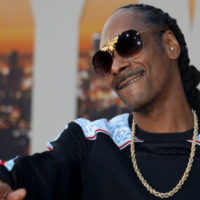 Shortly after branching off into the wine industry with 19 Crimes and marijuana business with Leafs by Snoop, Snoop Dogg is back at it again. This time with his breakfast cereal brand Snoop Loopz. Snoop Loopz is a boxed wholegrain cereal, reminiscent of Kellogg's Fruit Loops owned by rapper's latest venture Broadus Foods.
"Broadus Foods introduces the best tasting cereal in the game Snoop Loopz," wrote Snoop Dogg on a Instagram post. "We're taking over the grocery stores. The more we make, the more we give."
After working with Martha Stewart on Stewart's special Martha & Snoop's Potluck Dinner Party in 2016, Snoop Dogg recently partnered with Martha Stewart and launched a new wine under his 19 Crimes brand. Martha Stewart Chard is the first California Chardonnay and the third wine from the state in the collection, along with previous releases Snoop Dogg's Snoop Cali Red and Rosé; the remainder of the 19 Crimes wines are made in Australia.
Editorial credit: Tinseltown / Shutterstock.com