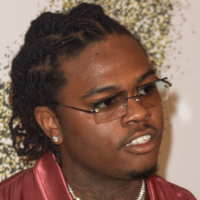 Gunna and Young Thug have been denied bail following their arrests on racketeering charges. Both Young Thug and Gunna's requests for bond were rejected during their hearings before a judge. The two rappers are among the 28 people named in the Fulton County district attorney's indictment for conspiring to violate the Racketeer Influenced and Corrupt Organizations (RICO) Act.
Gunna, born Sergio Kitchens, was hit with a RICO charge but is also accused of criminal street gang activity, possession with intent to distribute methamphetamine, hydrocodone and marijuana, and theft by receiving stolen property, according to the news outlet.
Thug, born Jeffery Lamar Williams, is facing seven additional felony charges on drugs and weapons possession after police raided his home on Monday (May 9). Thug's felony charges include Possession of Marijuana with Intent to Distribute; Possession Of Sawed-Off Shotgun, Sawed-Off Rifle, Machine Gun, dangerous Weapon, Or Silencer; and three separate charges of Unlawful For Person Employed By/Associated With Criminal Street Gang To Conduct/Participate In Criminal Activity.
Both Thug and Gunna will remain in custody at the Fulton County jail until further notice.
Editorial credit: Jamie Lamor Thompson / Shutterstock.com